Senior Member
Join Date: Dec 2008
Location: VA
Posts: 2,183
Thanks: 107
Thanked 131 Times in 112 Posts
75-80 Dragway Diesel Day - June 21 Monrovia, MD
---
---
2008 F250 CC SB - It all wont fit in the sig so why bother?
Singles Club #222
December 2008 TOTM
Riding High Club #2
2008 Truck of the Year
Ridin' Dirty Club #2
---
Last edited by O2ShootTheJ; 06-12-2009 at

05:01 AM

.
Mafia member #105
kinda funny in the bottom right of that.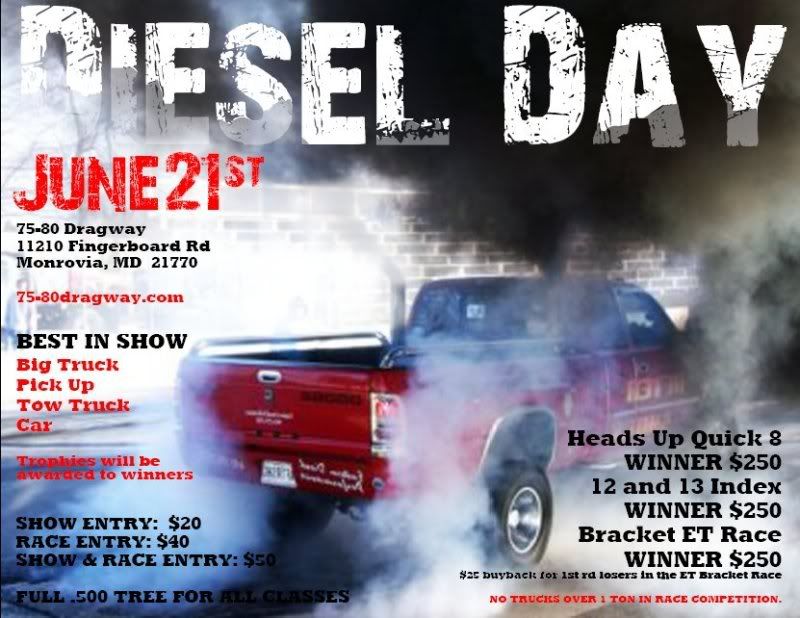 ---
Devil Girl
2006 2500HD LBZ Ex-Cab 4x4
EFI Live tuned by IdahoRob,MPI twins installed by BigDipper,PPE lift pump, BigDipper 30% injectors, BigDipper Trans Precion ML converter.PPE Twin Cp3's.
Alot Of thanks To Kat & Pat at duramax diesels, Joe & Dan at PPE,George aka BigDipper
RIP LBZ 6/1/
[email protected]
:44pm she was strong
She's Alive again
Born on July 27, 2008, 11:59:02 PM
http://www.dieselbuilder.com/Media/P...adoBuild_2.pdf