Join Date: Jul 2009
Posts: 12
Thanks: 0
Thanked 0 Times in 0 Posts
smoke on the water 09 in fla.
---
it's summer time again, and it's hot! so it's time to hit the water. saturday july 18th in the ocala national forest on the lake, we will have a get
[email protected]
10:00am this will be one of the best get togethers for the diesel community. all you need is a float and beer, and maybe some sunscreen for you irish pale people. this is one of the best spots with crystal clear spring feed water. the short trail off the highways is big enough to fit a hummer down it and we will clear it the day before the event. so bring you'r coolers and chairs the wife, the kid and the dog. camping spots are everywhere, if you wish to camp. and the fishings great so bring a small boat if you wish, there is a ramp on the other side. we will have a meeting location at a convience store nearby and we will have a trail of signs to the location for the late scraglers. more info to come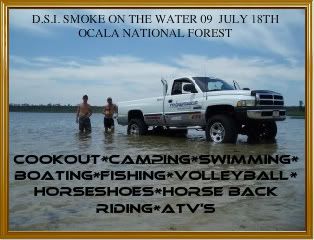 Threadstarter
Join Date: Jul 2009
Posts: 12
Thanks: 0
Thanked 0 Times in 0 Posts
it's in the ocala national forest on a spring feed lake it's near 19 and 40 off of 75. go east until you hit 19 then go south following the signs approx 4 miles then go right on dirt rd to the lake.(lake beakman) we will have a meeting place, as the time gets closer to the event. salt springs is about 30 min in opposite direction. as far as the trail is concerned we will be there this sat to take measurements for campers trailers and toy haulers and will post that info next week.