Join Date: Feb 2007
Posts: 42
Thanks: 0
Thanked 0 Times in 0 Posts
DieselGas Conversion results
---
I don't know if it is of any interest to members, however I have just had my starboard helmed 2004 F250 7.3 PSD with 60K miles on the clock, converted to run LPG in conjunction with diesel.
This is the company I contracted to do the work thru their agent in my state.
http://www.dieselgas.com.au/home.htm
I had a 38US Gallon tank installed in the bed behind the cab.
They install a controller unit under the hood, which is coupled into the heater to prevent freezing as the Liquid Propane Gas / Butane Gas blend is converted from liquid to gas.
It is plumbed into the same collar on the turbo inlet pipe as the CCV connects to (unless you've done the eliminate CCV modification)
They also "T" into the Map line (just like your boost gauge does) for the sender to the PCM.
They flash your PCM to tell it to allow for the gas in the air intake.
They install an LED, LPG Gas, indicator button on the dash - which apart from telling you the state of fullness your LPG supply tank, can also switch the LPG off, if you wish and just run on diesel alone (such as if you run out of LPG!)
You can't run just LPG however - obviously your injectors need diesel fuel to withstand the HPOP, sending such pressure to them with no fuel would probably damage the injectors over time!
The Percentage of gas blend is around 20% compared to diesel.
This is the Dyno results on my stock standard truck - if it is of any interest to anyone!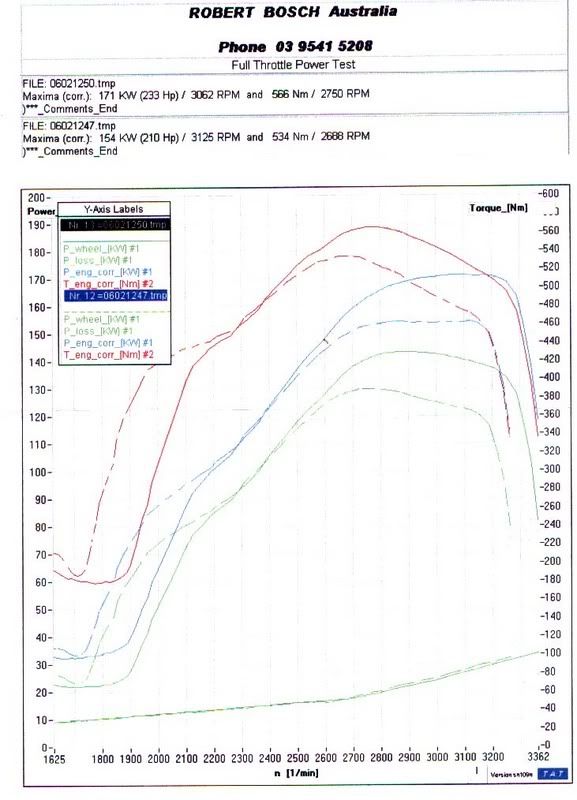 So far I've not noticed any change in EGT's, Boost or Trans temps.
I have noticed more power however, and increased fuel economy!
I seem to have picked up 23Hp @ 3062RPM & 32NM @ 2750RPM out of the stock engine according to the dyno run, while still meeting clean air emissions regs!
I need to run some serious consumption tests to get the true picture of what increased MPG's I'm getting but so far based on what little driving I've done I think i'm in the high 20mpgs and even 30+MPG on occasions..
I know those figures will throw you, and I want to confirm them more accurately, however I'm reasonably sure they are close to correct.
That could prove difficult as I am still modding my truck and am about to rip the puny little 72 litre (19 US Gallon) Diesel tank out and install a long range 175 litre (46 US Gallons) tank...so the weight of my trucks about to change yet again..
The Long Range diesel tank at 175 litres (US 46 Gallon), combined with the 145litre (US 38 gallons) LPG tank should allow me hopefully to get somewhere near 2500 miles between fills!
Obviously that will be less when towing!
When my kid gets back from work and I can retrieve my digital camera from his clutches - I'll take a few photo's of the installation and the new long range diesel tank and post them up if anyones interested!
My engines pretty much stock standard, my only mods being:-
Oilguard bypass oil filteration.
Transmission Deep Pan
Aux Oil Cooler
Zoodad Air Intake
Trans Temp, Pyro (EGTs), & Boost Gauges
Vacuum Over-ride Towing Brakes
Diesel Gas LPG Install
Next1 Long Range Diesel tank
Next2 Transmission bypass fluid filter.
Cheers!