TDG SinglesClub Member#90
Join Date: Jun 2007
Posts: 497
Thanks: 1
Thanked 1 Time in 1 Post
Fuel Leak
---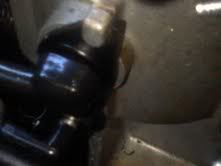 It is coming from the upper connection. It isn't the O-Ring, it leaking on the other side of the o-ring.
What would be causing it to do this? What should I do to even attempt to fix the problem?
I replaced all the O-Rings and Hoses in/on the fuel bowl. I also replaced the fuel bowl heater element.
I drove it for a day with no problems, then I noticed it was leaking again. I looked it over and saw that it was leaking at the banjo bolt on the fuel pump, so I found a wrench that would fit it, and snuged it up a little and that leak went away. Im going to order the new copper seals on Monday. Once I thought all the leaks were fixed, today I smelled raw fuel again, now as I posted above it's the fuel bowl heater.
I'd like to fix it, just don't know what to do or what to order to fix it.
---
1996 Ford F350, 7.3 PSD, crew cab, 8ft(Line X'd) bed, 4x4, 5 speed manual, 4.11 gears, 285/75/16 Nitto Terra Grapplers, 222,000 miles, DP-Tuner Chip NS 1200 high idle stock 60Tow 80econo 120Race, 3x4" down pipe, 4" exhaust straight piped with 5" polished SS tip, gutted EBPV, chrome nerf bars, autometer ultra lite pyro and boost gauges, alpine cd player, alpine speakers, Garmin GPS.


"Real trucks have 3 Pedals, 2 Sticks, and No Spark Plugs"
Similar Threads
Thread
Thread Starter
Forum
Replies
Last Post
fuel leak

brooks1974

1994-2003 7.3L Power Stroke

3

04-10-2009

03:29 AM

help please.. fuel leak..

blackcloudCTD95

5.9L Cummins 12 Valve (1994-1998.5)

48

03-25-2007

09:07 AM

Fuel Leak

William Tucker

1994-2003 7.3L Power Stroke

2

03-18-2007

04:13 AM

Fuel leak from fuel filter drain tube

Diezel Dawg

1994-2003 7.3L Power Stroke

11

02-02-2007

02:47 PM