Senior Member
Join Date: Jan 2009
Posts: 883
Thanks: 15
Thanked 3 Times in 3 Posts
Volant ram air intake install on 6.0L
---
well after doing some more mods we decided to do an intake sysytem for the tow rig. So far we have done a Volant turbo back exhaust, and Edge juice with A2 monitor, and an intake elbow, and XCAL2. The next logical upgrade would be the filtration side. When looking at doing an intake there are several things to consider. The most important for me is getting one that will keep the same if not better filtration characteristics as the OE filter. Next you want an intake that will flow better and have less restriction then the OE setup. For Ford Im not sure what they were thinking when they designed there intake system but serviceability was never thought of. Seriously its border line retarted. To remove the filter to inspect it or replace it on the OE system will make you want to sell the truck. IMO its a piece of you know what. Best of Volant has a new filter coming out very soon called the Powercore. From my understanding it is dry filter, that doesnt need replacement till 100k miles! Thats right the filter was designed by Donaldson and from what I understand it has more efficency then any filter made. What I mean is a brand new unsoiled filter will right around 99% effeciency of restriction on the filtration surface. after a year of use you can be at around 20% efficency...thus causing considerable restriction to your intake...thus causing a performance degradation. The new powercore has a much higher rate of efficency...I believe its around 80% efficent at 100K....I will find out more
http://www.volantpowercore.com/
Anyways I will be getting one of the powercores as soon as its available. anyways The first thing I did to remove the OE intake system was first remove the degas bottle from the fire wall. This allows more room to work.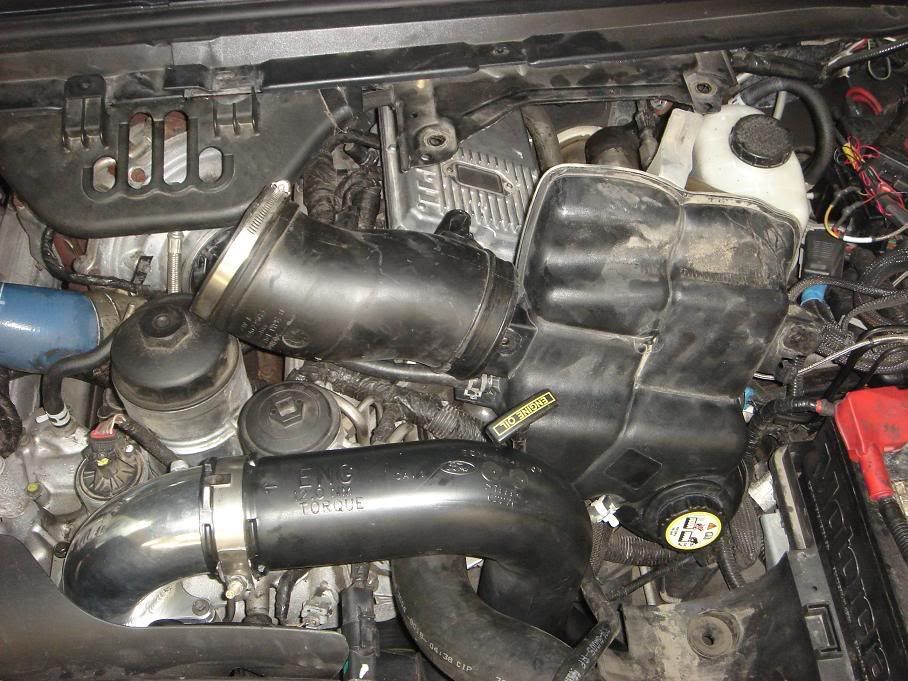 Next loosen the hose clamps on the turbo side and where the rubber boot is on the OE intake by the mass air flow sensor. Also remove the sensor at this time. and install on the Volant intake.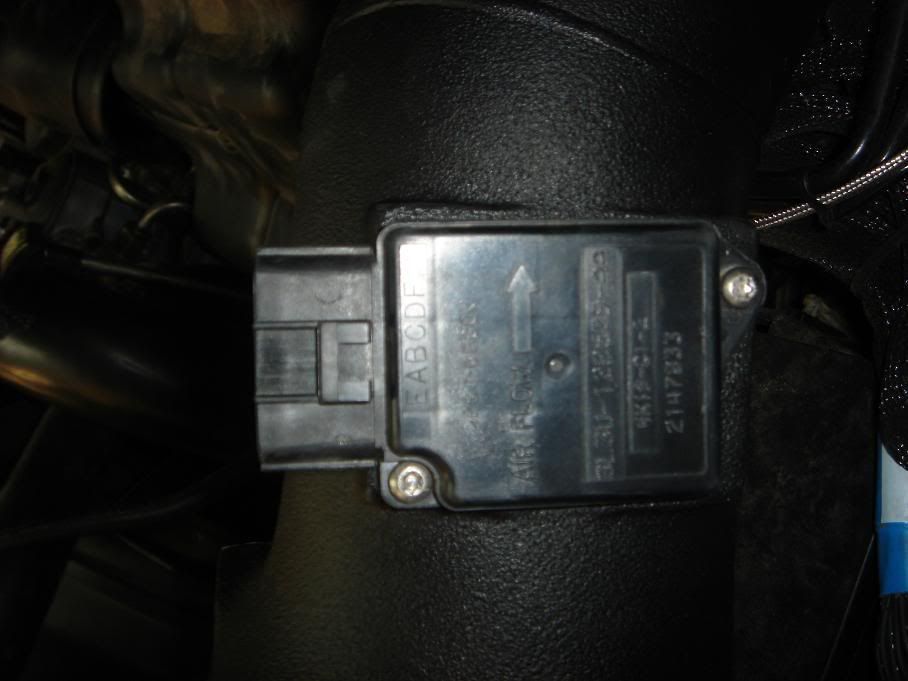 At this point you can pull out the OE filter and canister. set aside and be glad to never look at that piece of junk again! We then removed the filter minder and installed into the volant intake. Now its pretty much straight forward...install the volant intake and attach the new Volant boot over the two part intake, and start tightening down the hose clamps again.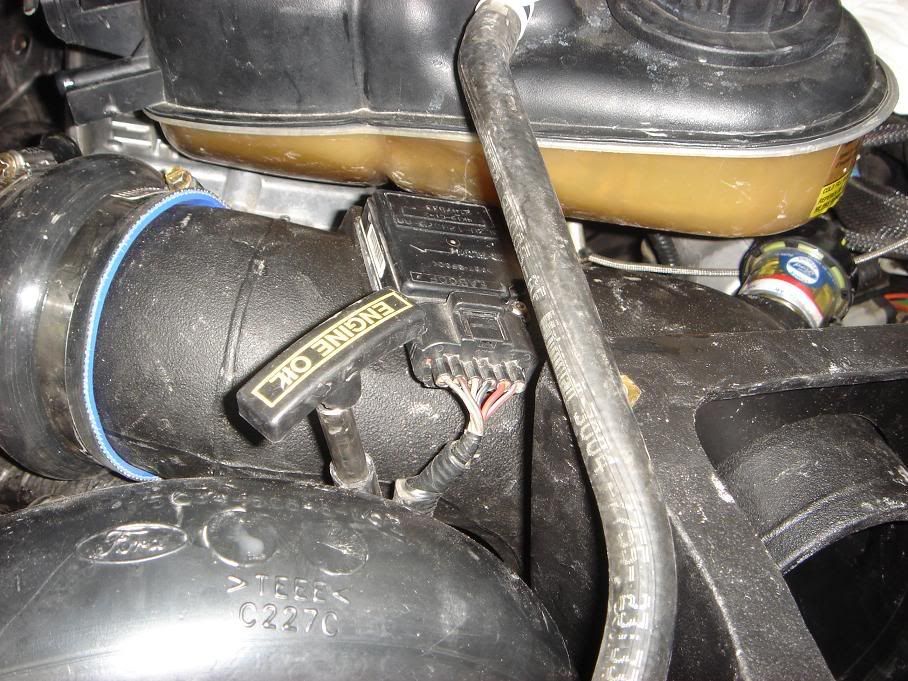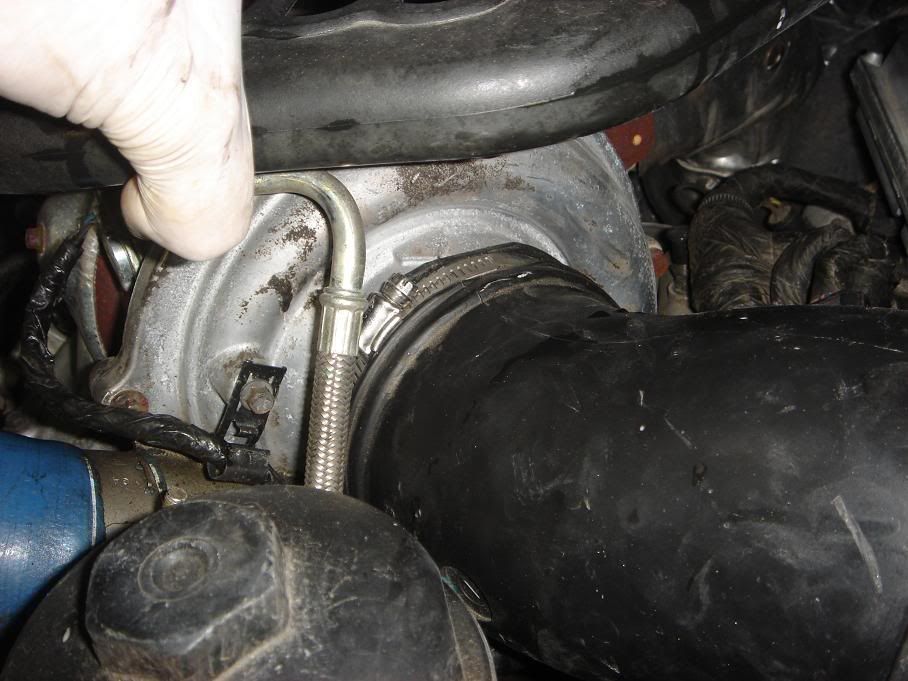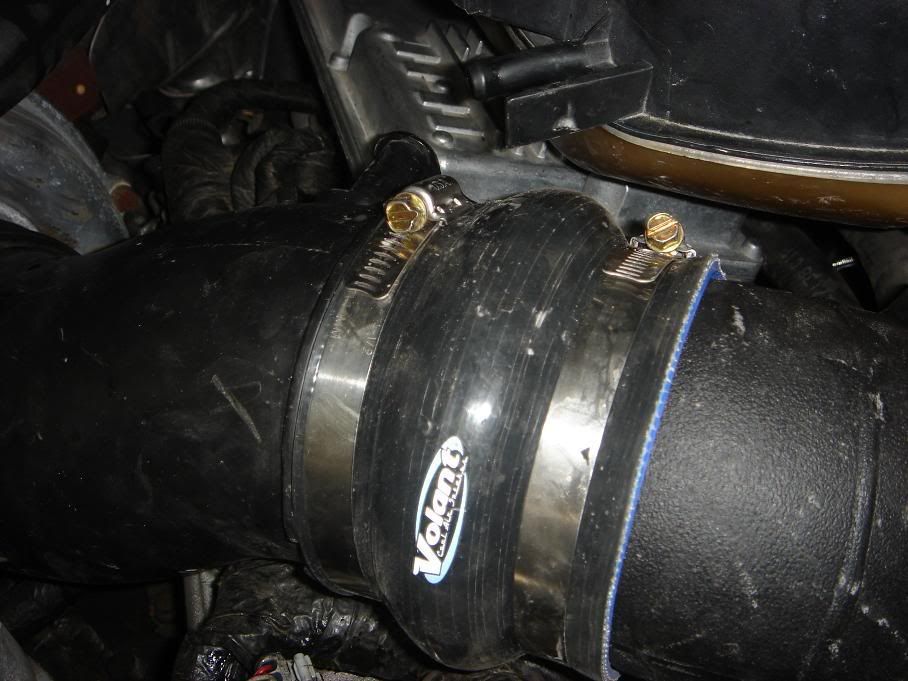 now install the Volant intake filter canister to the intake elbow. This attachs by two bolts.
Now the part that will bring joy to your face for your years to come...installing a easy to service filter
It simply slides onto the intake and tightens down with a hose clamp.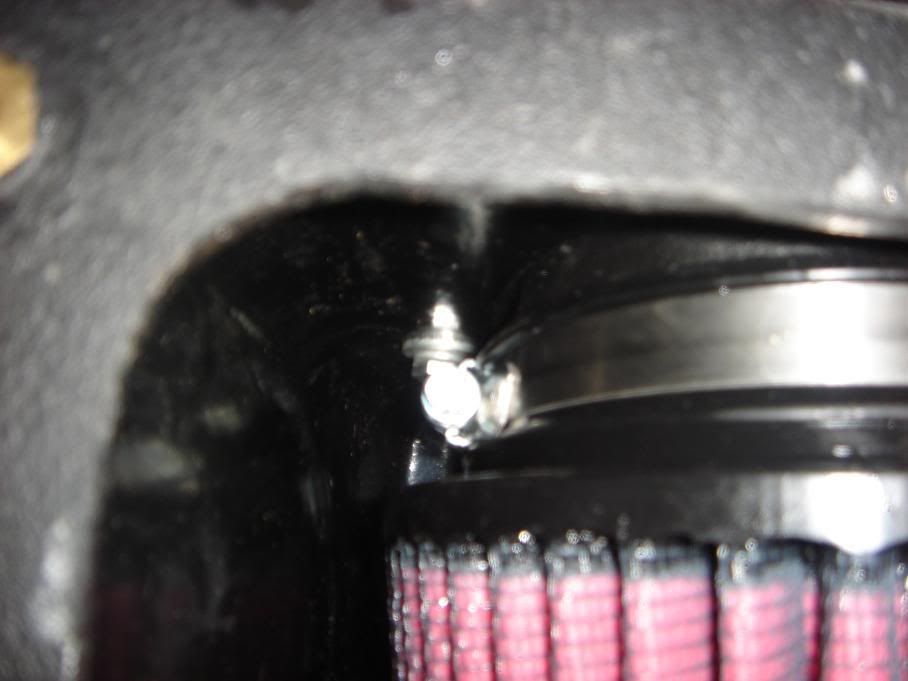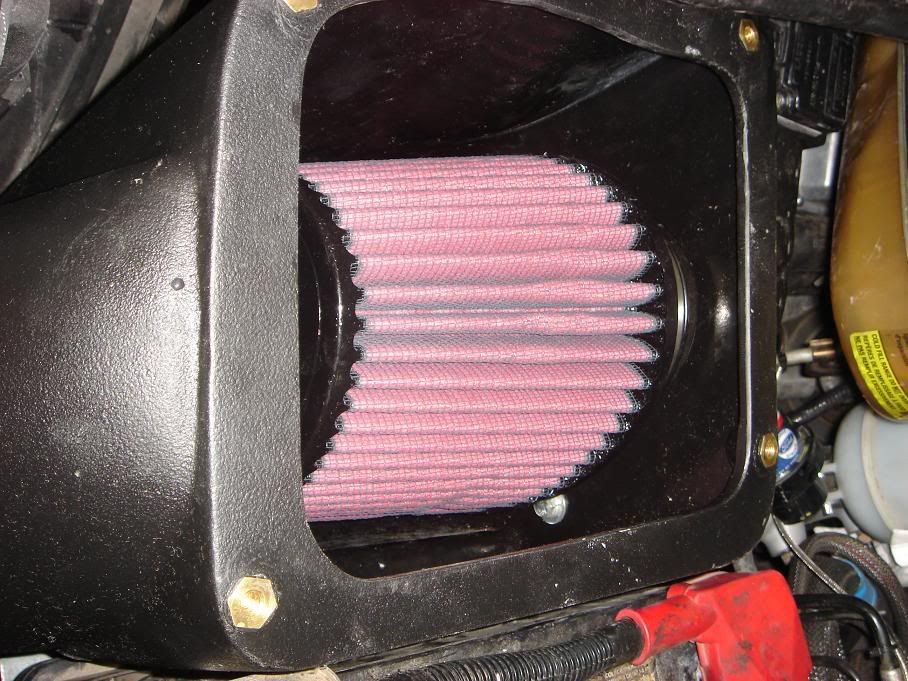 Now attach the Degas bottle back to the firewall and install the Ram air lid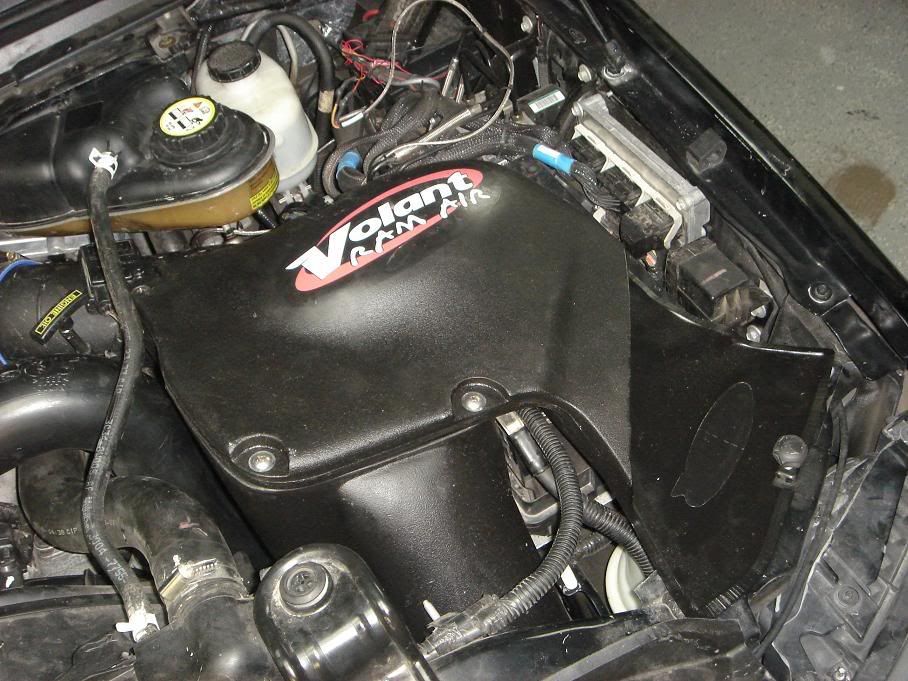 ---
06 F250 6.0L ID tuning. RCD EGR delete 03 turbo
Senior Member
Threadstarter
Join Date: Jan 2009
Posts: 883
Thanks: 15
Thanked 3 Times in 3 Posts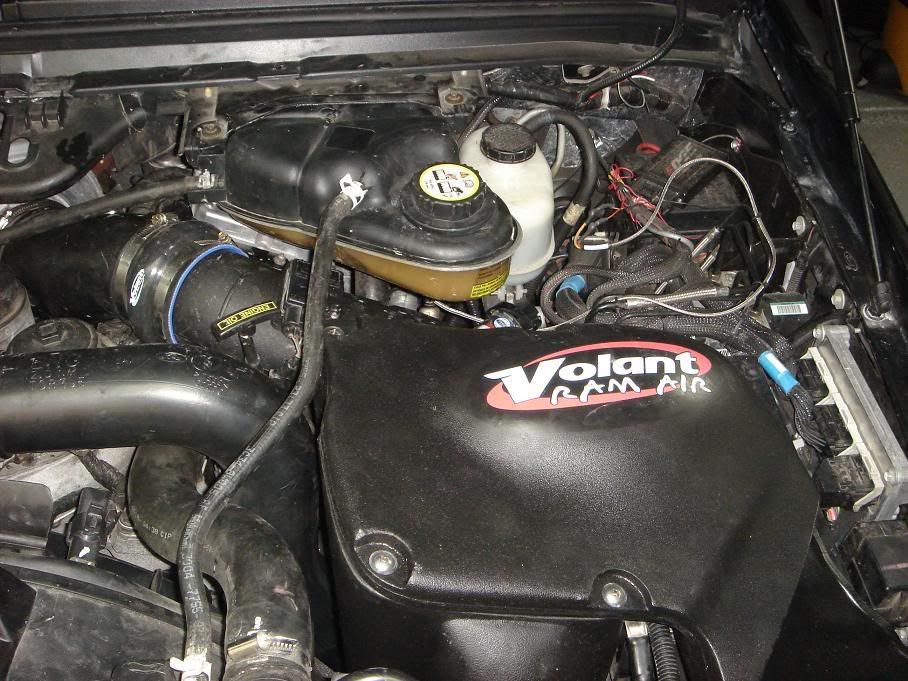 you can see how the ram air works with scooping air from under the hood
: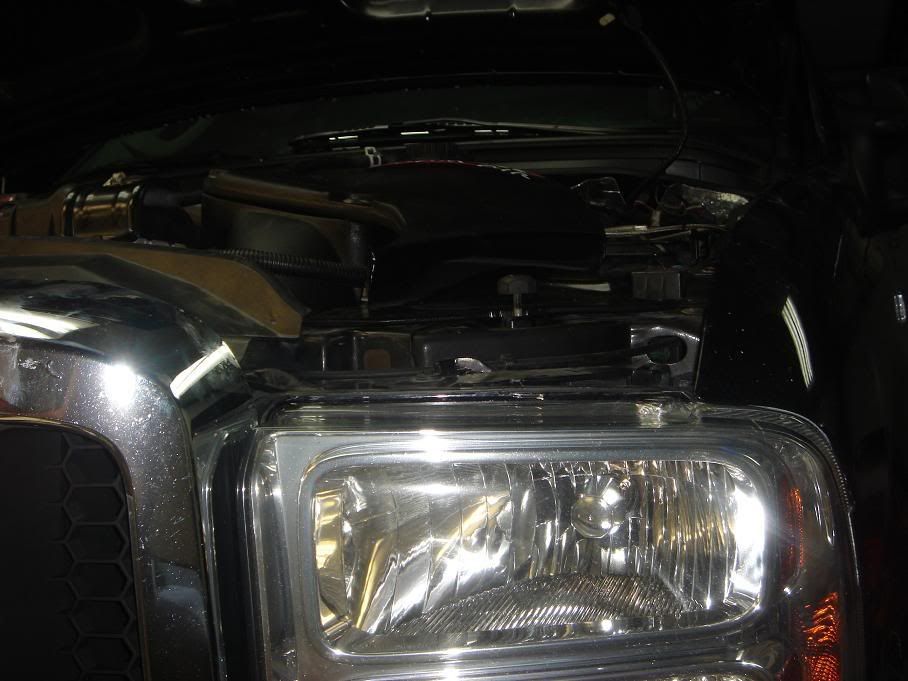 Overall were very happy with the install, and ease of serviceability. We have noticed you can hear the turbo much better now, and it seems to give the engine a little more throatier sound. I just cant wait now till I can get my hands on a powercore filter
Performance wise it seems like I have a little quicker spool up....one thing for sure is the intake temps have dropped over 40F
: I have watched the intake temps on the Edge A2 go from 140F intake temp down to 100F in the same drive conditions, and same driving manners.....I know this will lead to an increase in performance and decrease in EGT's.
---
06 F250 6.0L ID tuning. RCD EGR delete 03 turbo