Junior Member
Join Date: Mar 2009
Posts: 33
Thanks: 0
Thanked 0 Times in 0 Posts
TX. ODRA / 5E Diesel Dyno and Sled Pull Sat. 3/14/09
---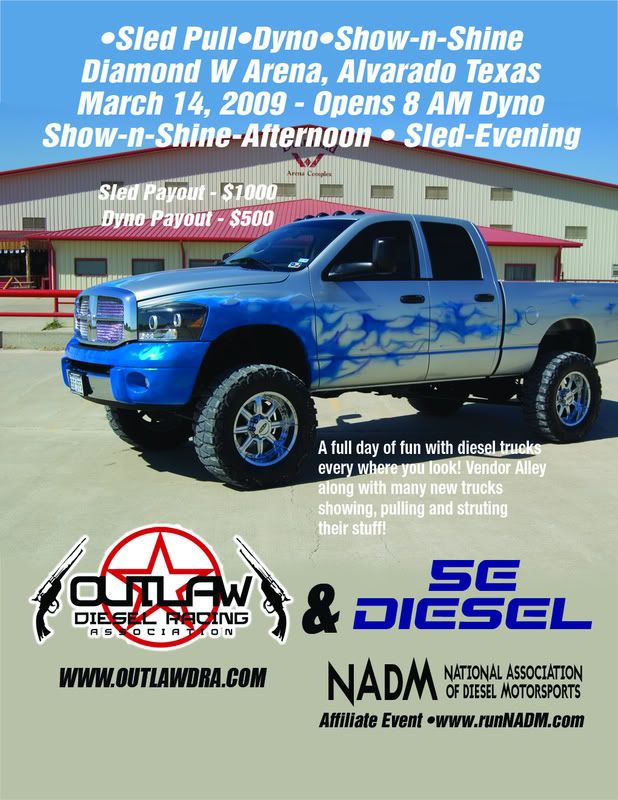 ODRA / 5E Diesel - Mobile Dyno, Show n Shine and Sled Pulling at the Diamond W Arena in Alvarado, TX.
www.diamondwarena.com
Gate Fee: $10 adults and $5 kids 12 and under
Dyno Starts at 8:00am - $40 for 3 Pulls - 3 Classes $500 Payout courtesy of NADM and Texas Performance Diesel (
www.dieselhotrods.com
)
Show n Shine - Mid Afternoon
Sled Pulling - Tech at 5pm / Pulls start at 7pm - $30 per pull per class - 5 Classes $1000 Payout courtesy of NADM
The Charity Sled Pull - $10 per pull*
*"Pulling for Boobs" is the Charity Class pulling for the Susan G Komen Breast Cancer Foundation
(100% of the proceeds from the Charity Pull will go to the SGK Foundation)
Special Thanks to NADM, Texas Performance Diesel, JTT
for more details check out
www.outlawda.com
the "garage" section
Junior Member
Threadstarter
Join Date: Mar 2009
Posts: 33
Thanks: 0
Thanked 0 Times in 0 Posts
My mistake I meant to post in the TX. section...