Junior Member
Join Date: Mar 2009
Posts: 33
Thanks: 0
Thanked 0 Times in 0 Posts
Halletsville, TX 2 Day Sled Pull July 17 and 18th '09
---
ODRA going to Hallettsvilles 2 day pull
: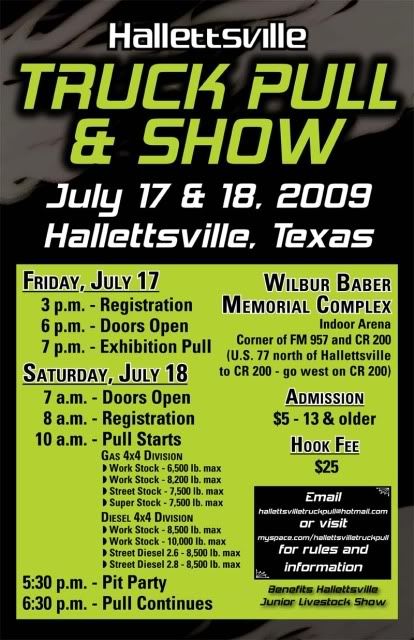 Following NADM Sled Pulling Rules
---
Last edited by outlawdra; 06-16-2009 at

06:39 PM

.
truckn'
Join Date: Jul 2005
Location: austin,tx
Posts: 1,720
Thanks: 76
Thanked 104 Times in 88 Posts
my uncle works for migl and lives in sublime...guess i'll have to pay him a visit.
---
2014 T800W 600hpISX15 18spd yanking a 2003 XL specialized 110HD with the cheater neck.
93 peterbilt 379ex hood. 3046B 18spd (in time out, broken crankshaft)
Lonestar Diesel club #9
Junior Member
Threadstarter
Join Date: Mar 2009
Posts: 33
Thanks: 0
Thanked 0 Times in 0 Posts
---
Mapquest direction from Dallas to Halletsville
:
http://www.mapquest.com/maps?1c=Dal...ettsville&2s=TX
Directions from Hallettsville to Ag Complex
- take 77N to Cr 200 and take a left. follow road down approx. a mile. Wilber Baber ag complex is on the left.
Best Western Hotel
: link/information
http://book.bestwestern.com/bestwes.../selectHotel.do
Reservations: 800-780-7234* be sure to call for the discount...
*If you are a member of Sams, Costco or the like be sure to ask about the discount for the Hotel...It drops the price per night from $99.99 (1) King bed (2) adults to $84 and from $109.99 (2) Queen beds (2) adults to $93 a night.
207 US Highway 77 S,
Hallettsville, TX, 77964, United States
Distance from City Center: 0.69m / 1.11km