Junior Member
Join Date: Jan 2009
Posts: 276
Thanks: 0
Thanked 3 Times in 3 Posts
Fass Diesel Nationals June 5th 2010
---
The NHRDA is proud to announce the 2010
FASS
Diesel Nationals will be held on June 5th 2010 at Oreilly Raceway Park in Indianapolis Indiana.
This action packed weekend will include the top competitors from across the country to compete in :
Diesel Drag Racing
Sled Pulling
Show n Shine
Dyno Competition
and the crowd favorite the Burnout Contest
So far the prize money is over $25,000 and it will continue to grow as more sponsors come on board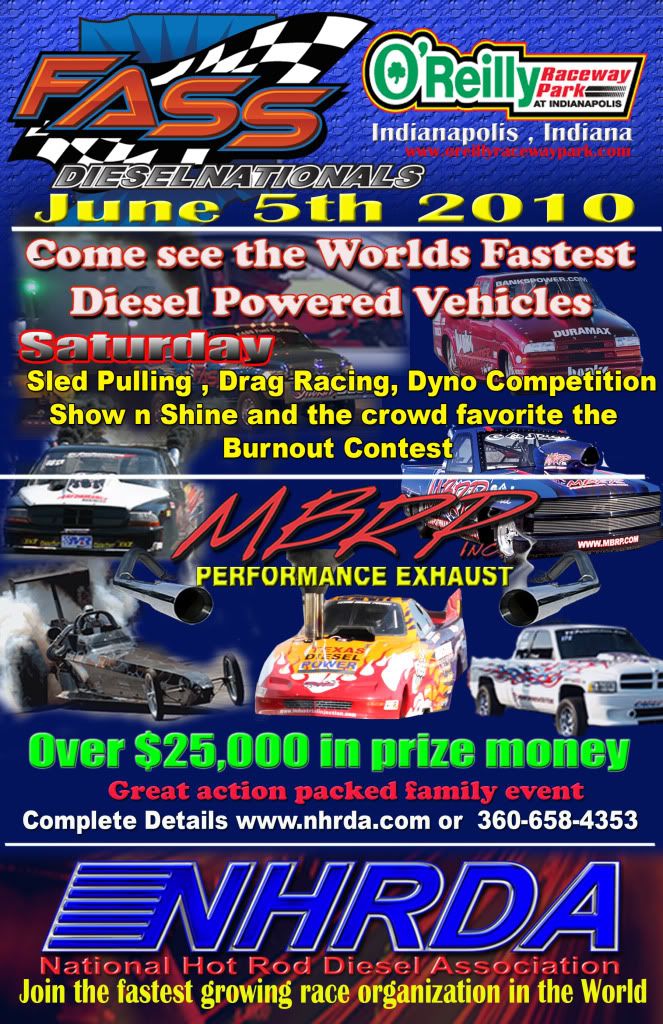 600 on #2 6leaker what
Join Date: Dec 2008
Location: Vandalia,IL
Posts: 105
Thanks: 0
Thanked 2 Times in 2 Posts
ill be there. been past 4 years and been a great event all the way through only if we got the warehouse back
---
2004 f-350 cc sb srw, Just some extra goodies and a lil go pedal. Thank you RCD!