Join Date: Dec 2008
Posts: 16
Thanks: 0
Thanked 0 Times in 0 Posts
oh and by the way mine is currently for sale its a 2006 cardinal 38' 4 slides rear living computer station king size bed all upgraded cabinetry and counters i just moved to west texas and the new job wont allow me to utilze that thing so anybody interested shoot me a pm
Join Date: Dec 2008
Posts: 4
Thanks: 0
Thanked 0 Times in 0 Posts
Here are a couple pics of what we pull. A 30' Thor Tahoe. It's a little bigger than what we were thinking when we bought it but the price was pretty good.
---
Last edited by zip; 01-03-2009 at

06:39 AM

.
Junior Member
Join Date: Dec 2008
Location: Southeast TX
Posts: 11
Thanks: 0
Thanked 1 Time in 1 Post
36ft Wild wood toy box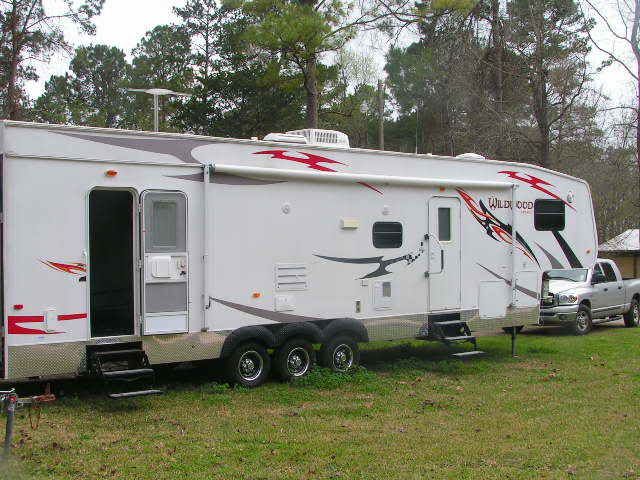 ADMIN/MAFIA
Join Date: Dec 2008
Location: Evansville, IN
Posts: 4,834
Thanks: 302
Thanked 691 Times in 599 Posts
Quote:
36ft Wild wood toy box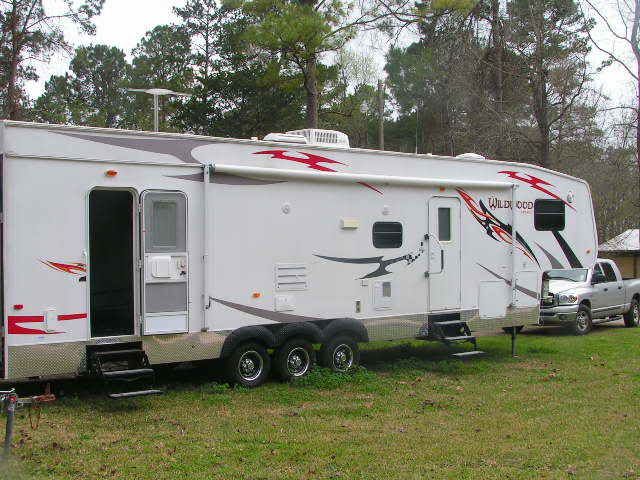 Nice looking Toyhauler..I want a bigger one but we don't need it..
---
"Only accurate rifles are interesting" -Townsend Whelen

2012 Ram 2500 Crew Cab Big Horn
6.7L 68RFE 4wd
Yeah its stock.
Edge Insight CTS / Line-X / Access Bed Cover
B&W Turnover Ball / Companion Hitch
Pac Brake Air Bags
On Board Air
Optima Redtop 34Rs


2010 John Deere 2305
2010 Jeep Wrangler JK Unlimited Rubicon/ Tuned with some toys.
2016 Keystone Impact 311 Toyhauler






9-11-2001 NEVER FORGET
Senior Member
Threadstarter
Join Date: Dec 2008
Location: Sunbury, OH
Posts: 608
Thanks: 23
Thanked 24 Times in 12 Posts
These are some great pictures gents. As nice as a 40 footer would be beerplay, I have a feeling your price isn't exactly in my price range..
---
early '99 converted to late '99 F-350 dually, 4x4, 4 door, long bed, 6 speed. Midwest transmissions 05+ zf-6 transmission with their short throw shifter and SB clutch. Rosewood 180cc with 80% nozzles, Termy modded 17* HPOP, International bellowed up pipes, fs-2500, DP Tunes. A few other things here and there...
dually club member.. Why replace 5 tires when you can replace seven?
I like my training wheels...
Senior Member
Join Date: Dec 2008
Posts: 263
Thanks: 2
Thanked 0 Times in 0 Posts
here is what we traded in. 89 35ft sparten i gave $3000 for it. not bad for are first camper. we used it 4years
here is what we steped up to a 05 30ft keystone couger.
---
terry
HIS AND HERS PSD!
HIS: 97,F250,RC,4X4
POWER BY:BDP,BTS,TDP,RSP,CTP
12.975 @ 103.34
12.88 @ 104.46
all on #2 only
RDRCM #2
HER'S: 97,F-250,KC,4x4
432 hp/ 851 tq
RDRCM #9
the sleeper's
SLAPS
vice president
Member
Join Date: Aug 2007
Posts: 61
Thanks: 0
Thanked 0 Times in 0 Posts
Senior Member
Join Date: May 2005
Location: South Dakota
Posts: 8,265
Thanks: 245
Thanked 713 Times in 340 Posts
This was our very first camper...an '02 Salem 27BH
This was just after our first long trip with it...to the Wisconsin Dells.
We now have this:
Its an '04 Wildcat 31QBH. It works well having two daughters...we have enough bunks for them to invite a friend along occasionally.
Someday when our girls no longer think its cool to go camper...we'll trade it off for a "grown-up" fiver.
---
~Dave~
2012 F350 KR Dually, stock...bone stock.
early 99 PSD CC F250, DP Tuner F-5, Stealth Stage I, Casserly 160cc singles, Monsterbox Tranny, MBRP cool duals, ITP Regulated fuel system, Cobalts and Performax gauges, and way to much else to remember right now.
**traded**
2004 Excursion Limited 6.0L, Dipricol gauges on the A-Pillar, Bilsteins and BFG's on the corners, lost EGR (not looking hard for it either), ARP studs, RCD Black Onyx head gaskets, MBRP 4" exhaust, (labor performed by Dan @ Midwest Transmission) **giggled when traded**
Quote:
I'm pretty good at drinkin beer
-Billy Currington
********* and Mafia #90
Join Date: Jul 2007
Location: New Berlin, WI
Posts: 14,261
Thanks: 943
Thanked 1,333 Times in 985 Posts
I need to get a 5er..
all the camping we do it would get used LOTS
Just saying im Jealous i guess
---
Bill Carriveau OFFICIAL POO HAULER
ARP studs, sct, Leveling kit,Airdog set at 62psi with no factory pump, leveling kit,5" stacks, under cab lights, Large in the way Fan shroud Removed, bed Lights being Re-did. Large Alternator(250amps)(130 amps was so 2003). On 3rd set of Hgs(soon to be 4th), 2nd set of heads, 2nd tubro, egr cooler, FICM and more. When i Turn the Key it does return a Favor, not always in MY Favor.

http://i449.photobucket.com/albums/q...g?t=1249694332
Windows 7 Takes the WIN!
Windows 8 might take that Win
http://www.bcarriveau.com/
Dear Tequila:
We had a deal. You were supposed to make me sexier, smarter and a better dancer. But I saw the video. And I think we need to talk..
How you name your Thread is Important. Read
Here
The TDG TOTQ
MAFIA #8
I think we are going to be buying a TT here shortly... I would LOVE to have a 5er but w/ my truck I think I better stick w/ a tag along
---
Aaron - 2004 F350 "Offroad Edition"

2003 F250 "Pulling Truck"