Discussion Starter
•
#1
•
We have made some changes in the past year, it's not possible for us to update our original thread so we are re-posting here.
This is our most up to date information:
We have been selling these kits for a year or two.... every sale has been tailored to the customer's needs. Finally we have evolved this kit into an "off the shelf" offering, and it's got everything figured out.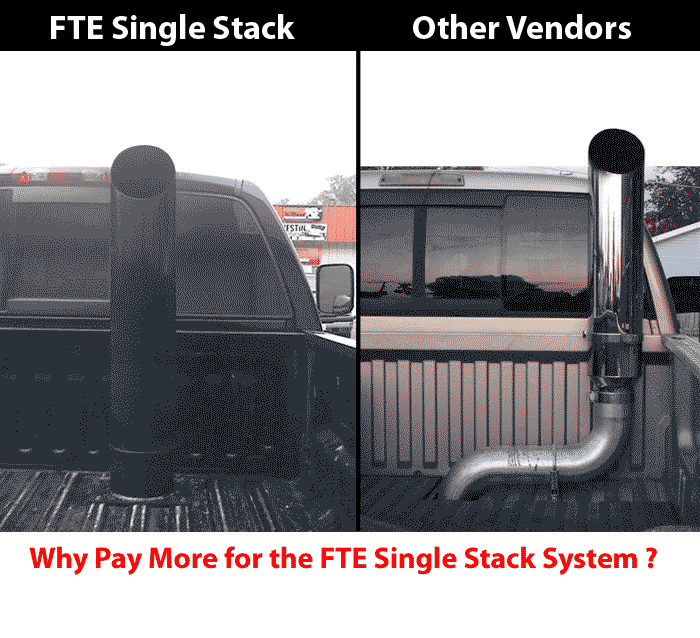 ​
The Single stack look is in for 2009, not off to the side like others sell but the off center look. Our kit mounts a stack just off center above the stock exhaust without the need for cluttered stack brackets. We have been listening to what you want and what you need.... FTE has the stuff your looking for.
At the heart of our kit is our adapter plate.... offering a solution for 4" and 5" systems. We custom build adapters that satisfy the above systems yet convert to 6, 7 and 8 inch in the bed. This gives you the ability to buy, borrow or bargain for any piece of pipe you can find and set it up at the "Just Right" height for your liking.
Most stack kits require that you reduce to 5",
that takes away from your styling freedom to make your rig what you want it to be.... Our kit leaves you room for total control on the height of the stack.
Our kits are proven, now we found a way to offer them at an affordable price. Everything we do has a reason, you can get here for less, but what are you giving up to do so? We have your best interest in mind, we want you to succeed in building the custom truck of your dreams... so buy something that is proven to work and give you the flexibility you desire.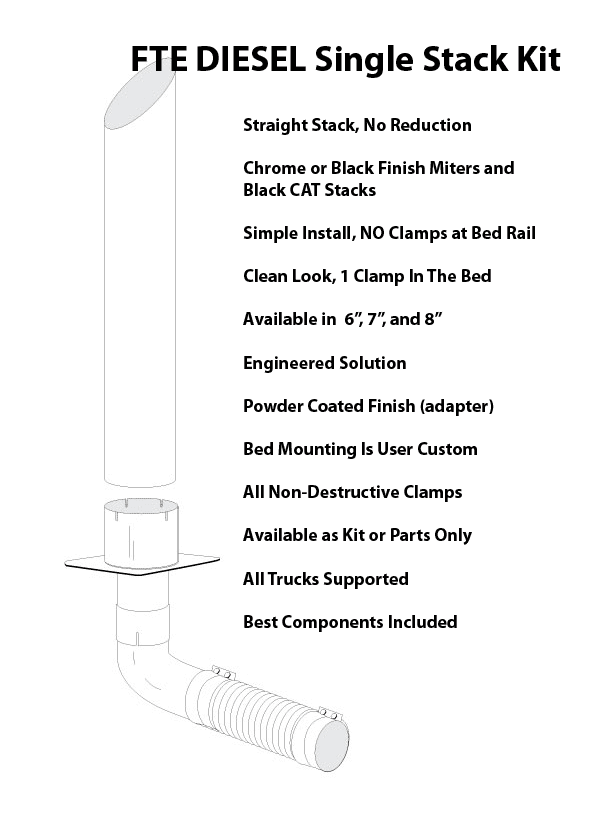 ​
Our base kit includes Flexpipe, elbow and clamps to protect your turbo flange. Next comes our custom adapter plate, the secret to your truck building success.... Yes, it's powdercoated.
With this kit you can have the Hot Rod look, just choose your stack size and style and fit it at the house.... No welding required. Interchangeable with ALL Grand Rock Dual stack kits.... we guarantee it fits.
Currently available in the following configurations:
4" Inlet x 6" Outlet
4" Inlet x 7" Outlet
4" Inlet x 8" Outlet
5" Inlet x 5" Outlet Long OD for MBRP 7 & 8 Inch Stacks
5" Inlet x 6" Outlet
5" Inlet x 7" Outlet
5" Inlet x 8" Outlet
The above configurations take care of single stack needs from 6" to 8", Chrome, Powder Coated, or Raw Stacks are available.... but the best part is you can get your stack at the junk yard for cheap... Cut it down....bolt it in...and be the one off custom you want to be.
FTE Diesel... Serious About Diesel Performance !